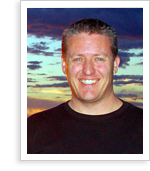 I've been designing and building Websites since 1996. My background in the magazine publishing industry as a pro photographer and my subsequent years in various businesses gives me a well-rounded perspective on how to best present a business on-line.
My experience at the coalface covers eBusiness, Marketing/Branding, Advertising, Graphic Design, Small Business (retail, imports and technology) and various streams within the Automotive industry. This rather unique set of skills means that I can complete many projects that would typically require three or four specialists – on my own.
I maintain the on-line and marketing activities for a number of loyal clients – locally and overseas. I value every one of my clients and treat their requirements with the urgency, care and attention to detail I expect myself. As a result, all of my work comes through direct referral by my fantastic clients.
I also founded a blog called Midlife Tribe.
Peter Fritz